Garden Gate
06-03-2009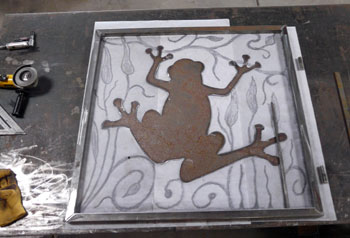 As you can see, I now have the metal frog shape lying back in the exact place I created the paper template from earlier. Originally, my thoughts were to use round tubing to fabricate the outter frame for this garden gate, however, as I began project, I gravitated toward square tubing since the Pergola is comprised of square shapes. I mitered the ends of the tubing for a nice clean fit. Now, I am beginning to think about how to best create the hinges to hang the garden gate, and a couple of barrel-hinge components can be seen lying to the right of the gate. I am also beginning to obtain a sense of size and proportion in reference to the bar stock I will uilize in creating the vines for the frog gate.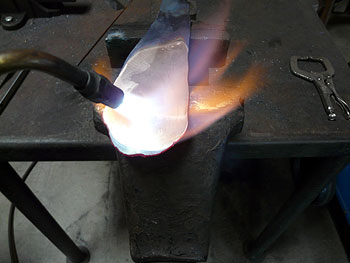 Next, I began to create some of the shapes that I will be integrating into the design. I chose to use copper for the larger leaves. Here, I am annealing the copper in order to make it maleable and to create a nice patina. Copper is a tremendous conductor of heat, so one needs to really pay close attention to the heat developing and be careful not to melt the piece.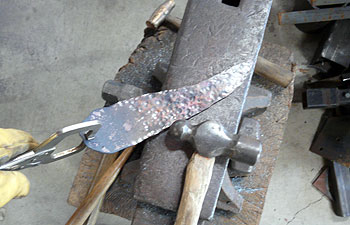 I am hand-hammering the the copper leaves for added character and texture. Since I don't intend to make these leaves "species-specific," I am content in letting them remain abstract - allowing the viewer's imagination to conjure-up whatever his or her mind sees. The hammering restores rigidity to the copper, while adding texture.