Crane Sculpture
09-03-2008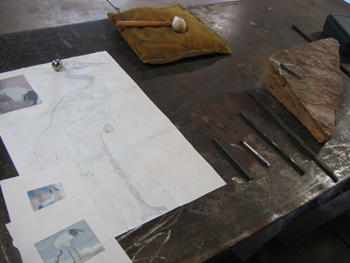 I have been commissioned by a former client to create a garden sculpture - a Crane standing on a rock. What would appear to be a relatively easy assignment, has actually presented numerous obstacles to overcome (e.g. mounting method, metal types, patinas, etc.). The client wanted the sculpture to appear similar to a Crane depicted in favorite painting of hers. I roughly traced the image in the painting for reference. The traced image needed to be enlarged to a full-scale working drawing. I scanned the traced image and enlarged it, then cut it into multiple sections in order that it could be printed on my small format machine. Once I had all of the images printed, I began reassembling them with tape. Armed with this full-scale reference and assorted Crane photos I found on the interenet - work commenced!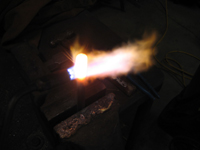 The first step was to "upset" the ends of some steel stock I had lying around in the shop to form the knee joints of the "leggy" bird. The photo depicts heating the steel, which was followed by a thorough pounding and shaping with a couple of different hammers. The heating and hammering process will be repeated many times during the course of this project to shape and form various components.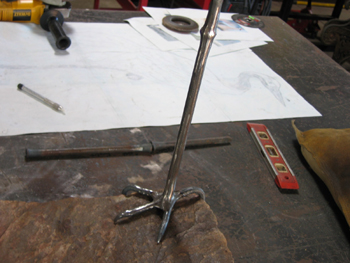 The next step, was to begin forming the feet. I took short sections of round stock steel, heated and drew out tapers on the anvil. Next, I tack-welded the "toes" to the bottom of the leg sections and welded-in extra material between the toes to provide a slight "webbing" effect. Once I had decided where the bird was to be standing on the rock, I drilled a hole in the stone and welded an extension (or locating pin) to the bottom of the main foot. Then, I heated up the birds' toes and wrapped them around the back and side of the rock to create a natural "grasping" effect - this also serves to lock the foot permanently to the rock.