Iron Gates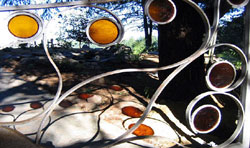 I have created many unique Iron Gates for clients and friends throughout the years. Most of the clients who contact me have very specific requests or ideas in mind for their iron gate project. Some clients already have a design in place; others seek my assistance in facilitating their concept to paper. And, while by no stretch of the imagination am I an accomplished sketch artist, I usually manage to come up with a satisfactory rendering.
In view of the fact that each iron gate design possesses a unique theme or style; various challenges present themselves in regards to how I will actually bring the concept to fruition, e.g., how to bend, twist, form, shape, join, etc. which I a happen to enjoy, as it keeps things interesting for me. I am always eager to discuss your concepts, so please feel free to Contact me with your ideas.
No two iron gates I create are the same. I don't relish the thought of production work, nor could I compete on a price-level with production facilities at home or abroad. I make each iron gate by hand, with my own blood sweat and tears, right here on American soil, to my client's exact specifications. These gates are labor intensive, but the end result is a beautiful and unique iron gate which will adorn your property for decades to come!
Automated Iron Gates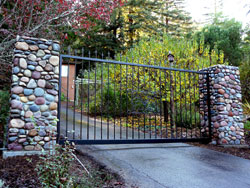 The iron gates I create can be eigther automated or manual. The photo to the left depicts an automated iron gate I recently completed for a local customer. This particular automated iron gate stands an impressive seven feet tall and is fourteen feet in width. The finish is a black satin powder coat with a very light texture for added character. The stonework on the columns consists of "Mexican Pebble" and was meticulously applied by a local stone mason. Most of my clients choose to impliment the proper safety sensors, e.g., photo eyes or loop detectors (a.k.a. "reversing sensors") to prevent the gate from closing upon an approaching vehicle. Most choose to install "free exit sensor" in order that the gate is opened automatically when the property owner is exiting the premises. Discussing all of the available options for preventing contact or entrappment will be discussed in detail in a forthcoming section on the site. In the meantime, feel free to Contact me with any questions or concerns you may have.
Manual Iron Gates
I have also created some very nice manual iron gates for various clients. A recent project can be seen in the phot to the right. This gate utilizes sealed ball bearing hinges which are both strong and smooth. The gate can be pushed open with minimal pressure, e.g., just a few ounces of force from your fingertip. This gate was attached to five inch diameter steel pipe which was also powder coated to match the gate panel. As per the owner's request, I sketched and cut-out a simple letter to signify the inital of his last name. The round spheres at the termination of the arches are also steel. The wooden fence was supplied by a good friend of mine here in northern, CA, so please let me know if you happen to reside in the area and are in need of similar work.
Simply click on one of the links below to view some of my other iron gate work: